As a wedding officiant in Raleigh, NC I get asked all the time how I deal with the speaking in front of so many people. Brides and Grooms alike often ask me how they can read their wedding vows to each other without becoming a bundle of nerves. Speaking in front of a crowd can be stressful, especially when you're not accustomed to it. So here are some tips that may help you when speaking your vows at the wedding. These tips also work for those giving speeches at the reception.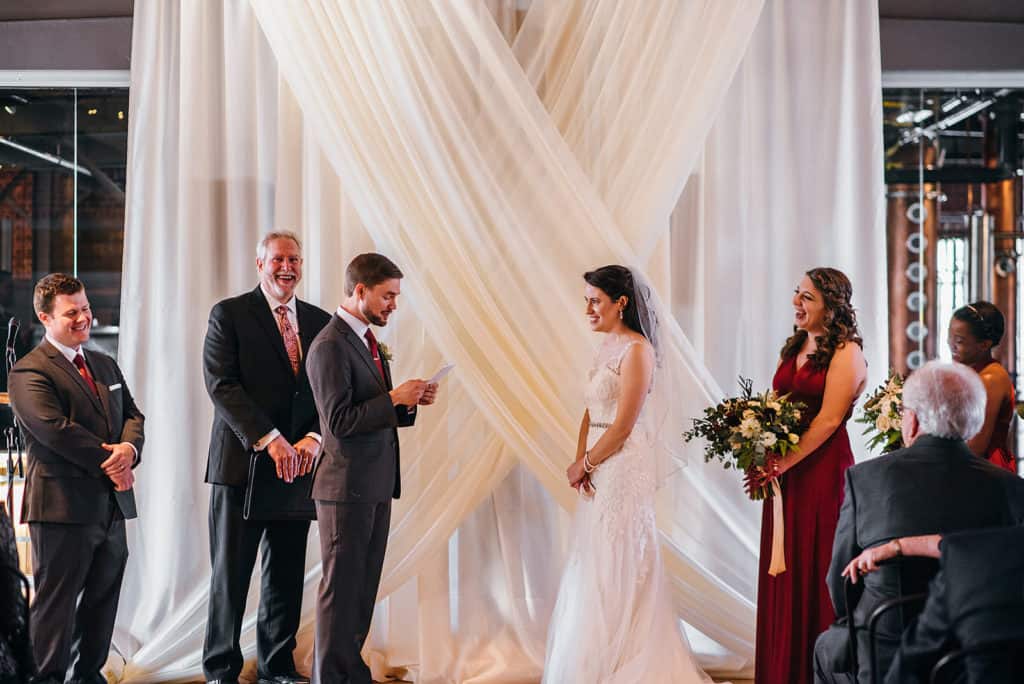 10 Tips To Help Your Speak Your Wedding Vows With Ease
1. You don't have to worry about the people who will be listening to your wedding vows, especially your future spouse. It's because you already know them and have a strong connection to them. So you know that you have their full attention and respect. So just relax and give yourself permission to be you.
2. During wedding vows, people listening love to laugh when they hear something that you might say to break the tension, and this can help you as well. So make sure to include something humorous in your vows so they – and you – can relax and have fun. Just make sure its something meaningful and relavant to your partner as well.
3. Practice, Practice, Practice. Be sure to practice the intonation of your voice and the pauses. You will feel less nervous on the day of your wedding if you practice enough, and your errors will only be noticeable to you, if you have any.
4. Learn your vows and repeat it as often as possible before the big day. Be calm and confident on the big day, because you'll know the speech inside out. (see the tip above)
5. When preparing to speak, practice breathing so you can make sure you're taking a breath at the right time in your speech. Diaphragmatic breathing (belly breathing) is helpful to reduce stress, and can be performed anytime before, during or after your vows.
6. Keep a funny story in your mind as you prepare to speak. That way you're already smiling and happy even before you begin.
7. Having a banana 20 minutes before your wedding starts can do wonders, especially if you're nervous. The energy boost it provides also helps calm your nerves, especially if you're really nervous.
9. Don't speed up your vows even if you are nervous. This will result in your vows becoming unclear and not easy to understand. Slow down and speak clearly so people can hear what you say.
10. Look your fiancé in the eyes. It helps to feel that you're just chatting with them, and not the entire audience.
Finally, here's a last piece of advice: Don't sweat the small stuff. Your life won't end if you make a few mistakes, and it'll be over in a few minutes. Have fun!
Ben Poston is a Wedding Officiant in Raleigh NC and the owner of Ben Poston Weddings. His passion and mission is to help couples create a personalized Love Story wedding ceremony, and deliver it with style, charm and grace. You can find more about Ben Poston Weddings at BenPostonWeddings.com