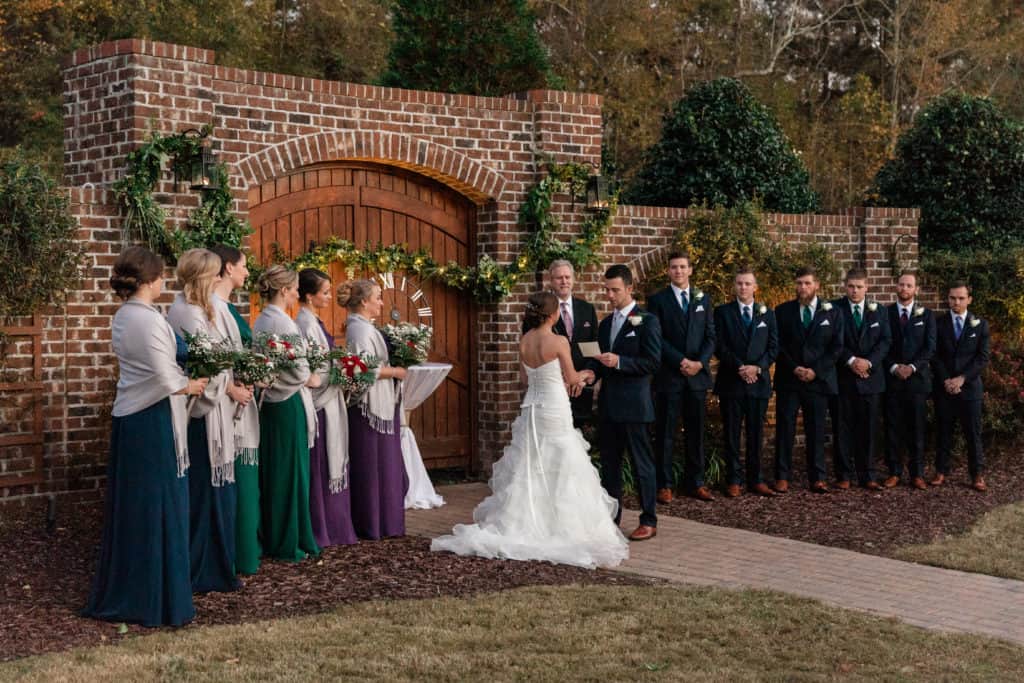 One of the biggest challenges for couples getting married is finding and hiring wedding professionals. Wedding vendors can play a major role in the overall outcome of your wedding day. It is important to hire quality and reputable vendors that you can trust.
With the wide variety of vendors available, you'll find that finding wedding pros can be a confusing process. You want to find vendors who are right for you, not just with products, services, and prices, but with personality as well.
Of course, you should have already selected me to be your wedding officiant in Raleigh NC, (hint, hint) but for the rest, here are some ideas on where and how to hire your wedding professionals.
Bridal Shows
Bridal shows give people the chance to meet with many wedding vendors and to see lots of products at once. You can learn a lot from these shows.
Bring a way to document the vendors that you talk to. Make a note about which ones might be a good fit, or provide just the right type of service that you're looking for. That way, after the show is over you can go back through your list. Then start ranking then in order and by service, and then contact them soon after the show to set up a personal appointment.
Ceremony and Reception Location
While you're planning a wedding ceremony, probably one of the first things you're going to have to decide about is the venue. If this is in yours or your parent's back yard, then you can check that off your checklist.
But if you are looking for a place for the ceremony or reception, or both to take place, start as soon as possible. Get familiar with the venues you like and are attracted to. Create a short list of those that are available on your date. Once you have that, ask them for their vendor's list. Many venues (but not all) will have a list of preferred vendors that they like to work with. These vendors also usually know the location very well.
Wedding Planners or Coordinators
Everything I just stated about the venue can also be said for wedding planners or day-of coordinators. First, they should be chosen pretty early in your planning process. Second. they often have vendors that they like to work with to, so ask them for their list as well.
However, if you are not working with a planner, you can still benefit from this knowledge. That's because most planners will share their preferred vendor list. Sometimes you can find this on their website, or in some cases they can share it with you if you ask nicely. I have seem some charge a fee for this if you are not using them.
Friends and Family
Your recently married friends or family can provide recommendations on the professionals they used. When you ask them about this, make sure they give the honest truth. Find out what they liked or did not like about a particular vendor. I'd recommend that you ask only the recently married. Those who have been married for quite a while may not remember well enough. Those who are now planning to get married might not have had the time to form a good opinion.
The Internet
The Internet is a great way to learn about different vendors. Check out the vendor's website to see what they offer. Check out what their prices are, and what kind of services they provide. One very important thing to check is reviews. If the vendor has lots of reviews on their own site (like I do) then that is a good indication that they are right for you.
You can also check other sites like Google, or Yelp if they are listed there. Those sites take reviews from others without influence by the vendor or their ability to change the review itself. There are other sites like The Knot, or even Thumbtack where wedding pros are listed. These sites will also have reviews that the vendor cannot change. Vendors typically pay a fee to be listed on these sites, or they pay a fee if you contact them from that site.
Bridal Magazines
This is probably a lessor used way to find your wedding professionals, but it can still be useful today. You can find lots of ads in the wedding magazines, but finding local vendors may be challenging if it is a national publication. Try to find local wedding magazines or even local wedding websites that would have a vendor list or add for those in your area.
Get a Contract
As you start your research, and select your vendors make sure that you get a written contract signed by yourself and the vendor. It will outline details like dates, times, names, and types of services/products provided. Ask the vendor to send a copy of the contract to you. A contract is a great way to ensure you and the vendor understand what is expected. It should spell out payment plans, refunds, and cancellation policies.
Read the contract thoroughly and ask questions if you have them. Don't assume you've secured a vendor until you've received a contract that's signed by you and the vendor.
Ben Poston is a Wedding Officiant in Raleigh NC and the owner of Ben Poston Weddings. His passion and mission is to help couples create a personalized Love Story wedding ceremony, and deliver it with style, charm and grace. You can find more about Ben Poston Weddings at BenPostonWeddings.com